Specialist Provision
Dyslexia Friendly
At Deansfield we are fully committed to ensuring that we give the best possible opportunities to all of our children. In May 2011 we gained Dyslexia Friendly School status. A dyslexia friendly school is a school that is able to identify and respond to the difficulties that a dyslexic learner may encounter and ensure their needs are met.
At Deansfield we recognize dyslexia as a specific learning difference and place it on the continuum of learning styles and preferences. We are committed to ensure that if children do not learn the way we teach, we will teach the way they learn, actively developing our experiences and the body of research available. Quality first teaching will build on the strengths of our children and minimize their weaknesses, enabling them to achieve their full potential.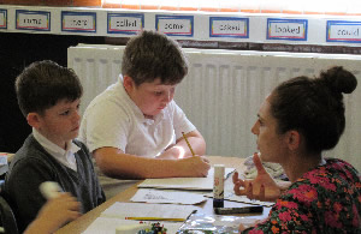 What is Dyslexia?
Dyslexia is a Specific Learning Difference which is constitutional in origin, independent of socio-economic or language background and can occur at any level of intellectual ability.
It can cause unexpected difficulties in acquiring certain skills in one or more of the following areas:
Reading
Spelling
Writing
Sometimes numeracy or spoken language.
Similarly, there are accompanying weaknesses which may be identified in the following areas:
Speed of processing
Short term memory
Sequencing
Auditory and/or visual perception
Motor skills.
Good Inclusive Practice
We strive for good inclusive practice which includes:
Low stress levels
Positive acceptance of difference
Confidence to take risks, make mistakes and learn from them
Multi sensory approach
Good working partnerships between all adults
Pupil voice in target setting